What is the Urban Governance Index?
Urban governance Index is a measure of the extent of structural empowerment of the city governments, as enabled by the State Government. It is a mapping that stretches across states, on indicative themes of democratic empowerment and accountability pertaining to urban governance.
Objective of preparing the Urban Governance Index
The Urban Governance Index will help in mapping and monitoring the implementation of the urban governance reforms which looks at Democratic Empowerment and Accountability in urban governance across states in the country.
Why should you use the Urban Governance Index dashboard?
The Urban Governance Index (UGI) dashboard is an initiative to create an interactive and user-friendly online access to the data behind UGI. The idea is to democratise the usage of the index, wherein the user can input their own weightages into the UGI framework, and find out the respective results i.e., score and rank of the states. The user will also be able to compare the original score and rank, with the user's changed score and rank for each state.
UGI Framework
The Urban Governance Index framework consists of four themes, 13 subthemes and 42 indicators.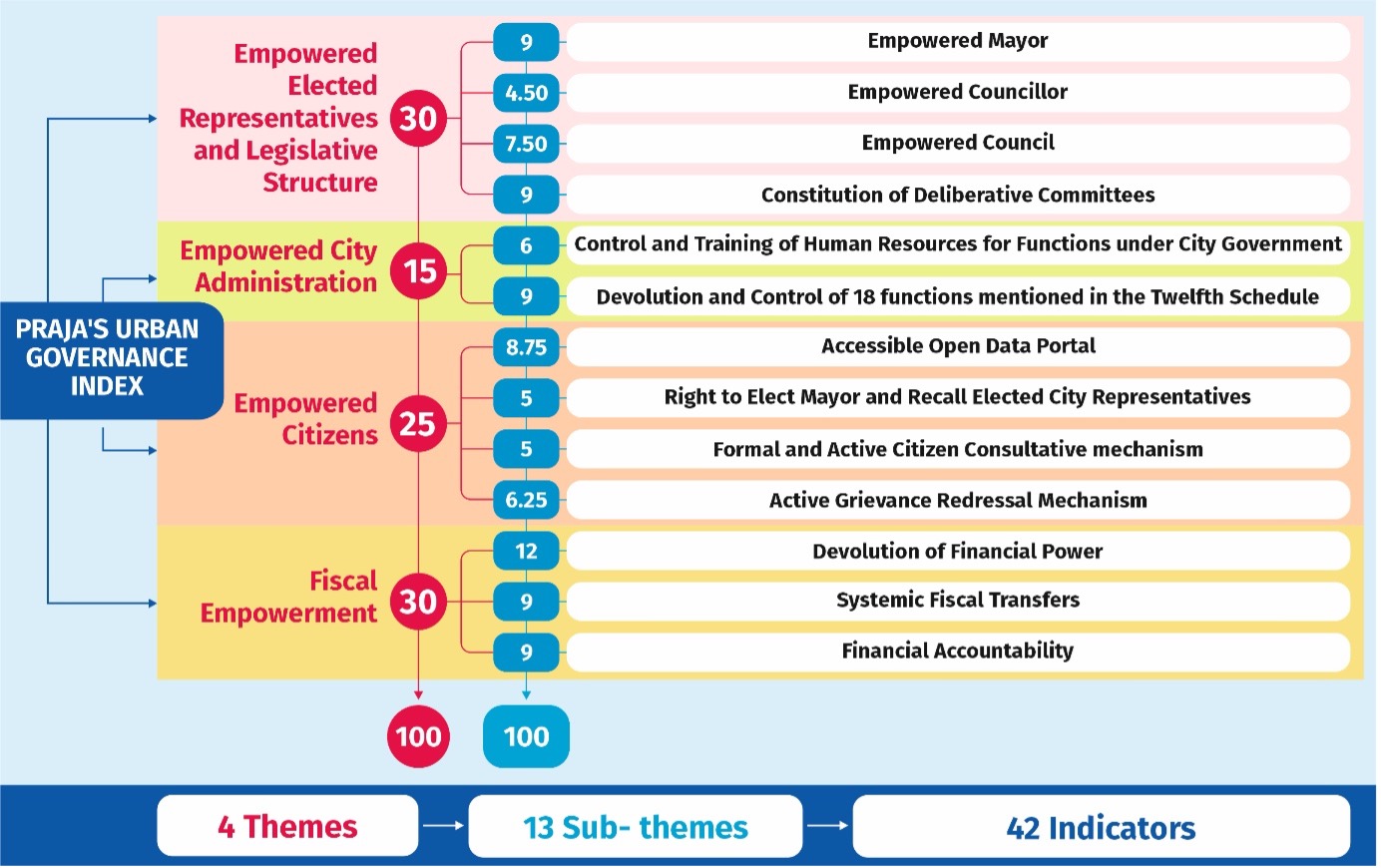 List of States and Cities covered in the Urban Governance Index
| SI.No. | State | Cities |
| --- | --- | --- |
| 1 | Andhra Pradesh | Vijayawada |
| 2 | Arunachal Pradesh | Itanagar |
| 3 | Assam | Guwahati |
| 4 | Bihar | Patna |
| 5 | Chhattisgarh | Raipur |
| 6 | Delhi | South Delhi Municipal Corporation |
| 7 | Goa | Panaji |
| 8 | Gujarat | Ahmedabad |
| 9 | Haryana | Gurugram |
| 10 | Himachal Pradesh | Dharamshala |
| 11 | Jharkhand | Ranchi |
| 12 | Karnataka | Mangaluru |
| 13 | Kerala | Kochi |
| 14 | Madhya Pradesh | Bhopal |
| 15 | Maharashtra | Mumbai |
| 16 | Manipur | Imphal |
| 17 | Meghalaya | Shillong |
| 18 | Mizoram | Aizawl |
| 19 | Nagaland | Kohima |
| 20 | Odisha | Bhubaneswar |
| 21 | Punjab | Amritsar |
| 22 | Rajasthan | Udaipur |
| 23 | Sikkim | Gangtok |
| 24 | Tamil Nadu | Coimbatore |
| 25 | Telangana | Warangal |
| 26 | Tripura | Agartala |
| 27 | Uttar Pradesh | Lucknow |
| 28 | Uttarakhand | Dehradun |
| 29 | West Bengal | Kolkata |